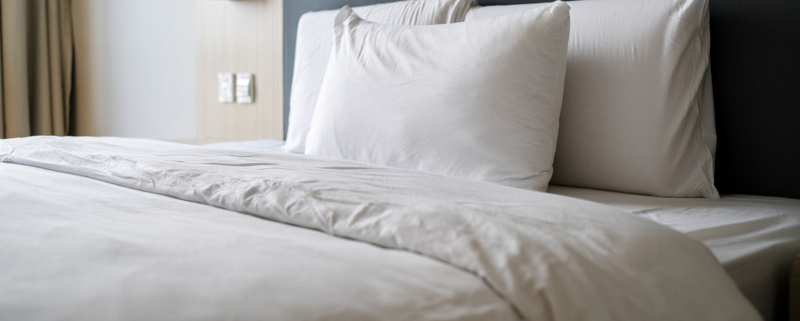 Kapok Pillows: What are They and Do I Need One?
Kapok pillows are pillows made using the white fluffy fibers from the seeds of the kapok tree. Kapok filling is a great alternative to down. Products coming from the kapok tree have been found to have many healing properties. Some of the benefits of kapok pillows are:
Hypoallergenic – Kapok pillows are a great option for people with allergies or sensitivities. Kapok fibers are resistant to dust mites, are antimicrobial, and repel moisture. Because moisture cannot build up in a kapok pillow, these pillows do not carry a risk for growth of mold and harmful bacteria.
Non-toxic – Because the kapok fibers are naturally found in the rainforest and harvested from wild trees, they are not treated with any added chemicals, toxins, or pesticides. They are naturally healthy for human use.
Better sleep – Kapok pillows offer continued support for a better night sleep. They are easily adjusted to provide proper alignment between your head, neck and spine. They also repel water, which makes for a more comfortable night's sleep.
Easy to clean and durable – Kapok pillows can be washed without problems. From time to time, you can put your kapok pillow out in the sun for easy cleaning. Kapok fibers last a long time and can be easily transferred to a new cover when needed. They will last for many years.
Good for you – There are many health benefits from the kapok tree and fibers. Kapok pillows are natural and do not expose you to the harsh and harmful chemicals like traditional pillows.
Here at Green Dream Beds, we feel strongly that it is very important to sleep with a healthy, non-toxic, comfortable and safe pillow. We know that kapok pillows will provide you with the best night's rest with many added health benefits. We invite you to try one for yourself.
https://greendreambeds.com/wp-content/uploads/2020/05/iStock-1070032526_res.jpg
425
800
admin
https://greendreambeds.com/wp-content/uploads/2020/07/new-logo.jpg
admin
2020-05-20 10:00:49
2020-05-26 07:46:10
Kapok Pillows: What are They and Do I Need One?