Why Choose Savvy Rest Organic Mattresses?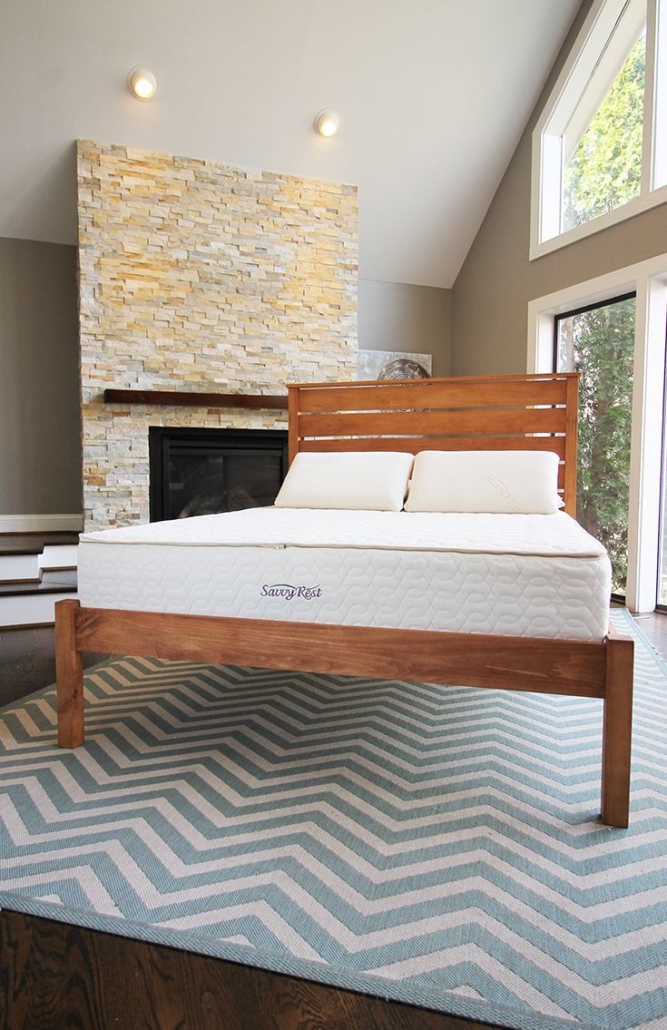 1. PURITY – A Savvy Rest Organic Mattress is made from 100% natural latex in a casing made of all organic materials.Natural latex, organic cotton, organic wool – that's all there is to a Savvy Rest (if you don't count the zipper, piping and thread!)
2. COMFORT – Our pressure relieving surface reduces tossing and turning – like sleeping on a cloud!
Minimal motion transfer and increased circulation deepens sleep as fewer pressure points are triggered, helping to relieve snoring, apnea, and other sleep disorders.
3. INTEGRITY – As the highest rated organic mattress company, Savvy Rest is dedicated to truth and fairness in business.You can be sure that Savvy Rest walks their talk by using only the finest materials and by being attentive to customer concerns.
4. VALUE – A Savvy Rest Organic Mattress costs no more than other high-end mattresses but will last two to three times longer.
Natural latex is the most durable cushioning material there is. Some people still sleep on latex mattresses made in the 1950s!
5. HEALTHY – A Savvy Rest is naturally dust mite proof, anti-microbial, and hypoallergenic.
6. GREEN – There are no petroleum derivatives, fire retardants, pesticides, or toxic out gassing from a Savvy Rest. Unlike visco-elastic "memory foam" mattresses, which emit toxins (formaldehyde), or conventional mattresses, which contain chemical fire retardants (PBDE's) and glues, a Savvy Rest is free of all toxic chemicals. Cotton or polyester fibers in most mattresses hold moisture, compress, and attract dust mites. The wool fibers in our casing wick moisture, circulate air, retain body heat, and repel dust mites.
7. CUSTOMIZABLE – A Savvy Rest organic mattress is fully customizable in size, thickness, density, and comfort.
Our customers can order any size or shape mattress (additional charges may apply), using any combination of Talalay and Dunlop latex to create their desired firmness on either side of the bed (queen and king size only).
8. CHANGEABLE – With its zip-off cover, a Savvy Rest can be adjusted for comfort after purchase. Unlike any other mattress, customers can tweak the firmness of their existing mattress or exchange layers to ensure a perfect sleep surface, now and into the future.
9. WARRANTED – Savvy Rest stands behind their products with a warranty that means something. The Savvy Rest 20-year warranty covers material, workmanship, and excessive deterioration of the latex layers.
10. FAIR TRADE – Our latex is sustainably produced and our casings are American made.
Our South Indian Dunlop latex is organically grown and sustainably manufactured, free of forced or child labor. Our casings are made one at a time, virtually by hand, in High Point, North Carolina.
Free Mattress Delivery to Durham, Raleigh, Chapel Hill, Cary, Carrboro, Hillsborough, Pittsboro, Apex, Fuquay-Varina, Wake Forest, Holly Springs, Roxboro, Oxford, Henderson, Mebane, Elon, Burlington, Garner, Clayton, Knightdale, Wendell, Benson, Bahama and Rougemont.